DIRECTIONS TO WESTMINSTER HALL
AND THE EDGAR ALLAN POE HOUSE

From the South:				From the North:
From the Washington DC area.	 	Take I-83 (The Jones Falls
Take I-95 or the Baltimore-		Expressway), south to the
Washington Parkway North.  		Maryland Avenue exit and turn
From the BW Parkway, continue		left.  Proceed south 
on to Russell Street as you 		approximately 1 mile to Fayette
enter the city (The Parkway ends 	Street.  Turn right and proceed
and turns into Russell Street).  	approximately 6 blocks to Greene
Stay to the left lanes as Russell	Street (watch for the Hall and
Street curves past Camden Yards,	Grave after you cross Paca
cross over Pratt Street (at which	Street).
time Russell becomes Paca Street).  
Continue 4-5 blocks to Fayette    	Or follow the Beltway (I-695) 
Street which is  one way).   		around to either the Baltimore-
The Poe Grave and Westminster		Washington Parkway or I-95 and 
Hall will be on your left		then follow the directions found
					on the left side of this page.
From I-95, exit at I-395 (the		
Downtown Exit). Stay to the left as 
you exit and continue past Camden 
Yards and the Convention Center, 
cross Pratt Street and take the next 
left turn at Lombard Street (which 
is one way heading west). At Paca 
(one or two blocks away) turn right 
and continue 3 or 4 blocks to Fayette
where you will turn left.

From the Poe Grave to the Poe House:
Proceed west on Fayette Street for approximately 5 blocks until you come to Schroeder Street. Turn right on Schroeder Street and go two blocks then turn right onto Saratoga Street. Go 1/4 of a block and turn right onto Amity Street. The Poe House is located at the far left end of this block of Amity Street. Look for a black antique street lamp that stands in front of the house.
For a larger version of the map, click the map image.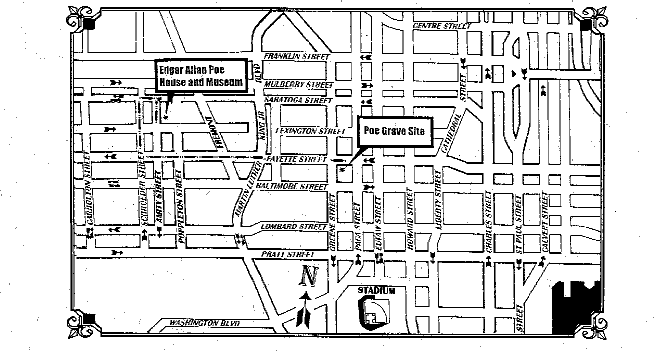 Map created by W. Edward Leon